White Fillings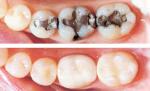 A filling replaces part of a tooth that has been lost because of decay or accidental damage.
Unlike silver (amalgam) fillings, white fillings stick to teeth, so they can be used to repair teeth (especially front teeth) that have been chipped, broken or decayed. You will probably hear the dentist talk about 'composite' or 'glass ionomer' - these are just different types of white filling.
What are the benefits?
White fillings are the same colour as teeth. They come in a range of shades so they can be matched to the colour of your own teeth.

White fillings are sticky so they can be used to reshape and rebuild broken edges or worn teeth. They can also be used to cover marks (discolouration) if they can't be removed by cleaning.

A tooth needs less preparation for a white filling than for a silver filling.
White fillings are almost as strong as metal fillings, but in certain circumstances they are not the most ideal treatment. They also need very dry conditions, which can be hard to achieve right at the back of your mouth.

NHS Clinics

Monday to Friday
Morning Session: 8:30am to 12:30pm
Afternoon Session: 2:00pm to 5:15pm
Private Clinics
Tuesday: 5:30pm to 7:30pm
Thursday: 5:30pm to 7:30pm
Saturday: 8:30am to 12:00pm